Homesteading a rough life where surviving is hardest part
Hard Times
Glenwood Springs, Colorado CO

Don and JoAnn Dorrell have survived and thrived on their 4,000-acre ranch along Beaver Creek, southwest of Rifle. This year they celebrated their 65th wedding anniversary.
Don: My grandmother came from Missouri in a covered wagon like so many others. Her husband, my grandfather, died of the flu. He was working in the mines in Leadville at the time. She came down here with my dad and his two brothers and homesteaded, after Grandpa's death. My dad was 15, and his brothers were 13 and 11. When my dad was 18 he went off to fight in World War I, and Grandma and the two boys survived on buckskin and rabbits.
Gallacher: It was true grit for a woman with three young boys to decide to go further west and homestead.
---
---
Don: Yeah, it was rough. It was really rough, especially in the wintertime. In order to get and keep your 160 acre homestead you had to build a house or cabin, fence the land and then … survive. Surviving was the hardest part.
There were a lot of folks who tried homesteadin'. My uncle got a fence around his place and started on his house when his payment came due. He needed about $200, but he couldn't raise it, and he ended up havin' to give the land back. Part of his cabin is still there, he never got a chance to finish it.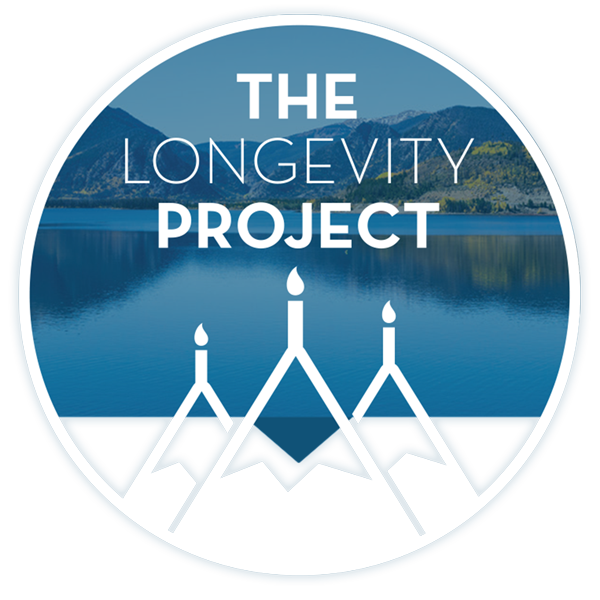 Participate in The Longevity Project
The Longevity Project is an annual campaign to help educate readers about what it takes to live a long, fulfilling life in our valley. This year Kevin shares his story of hope and celebration of life with his presentation Cracked, Not Broken as we explore the critical and relevant topic of mental health.
---
---
Grandma was 91 when she died in 1935. I was 7 or 8, so I didn't know her for long. I do remember her as bein' a small woman, kinda slight. She was real particular and liked things done a certain way. Her cabin was one-room but she had a curtain across the middle to separate the bedroom from the kitchen. The house logs were all hand hewn. It had a board floor and she'd scrub that floor everyday.
In '35, she had gone out to California to stay with her daughter but she got pneumonia and died. Dad and my uncles brought her back to bury her but they were all really hard up. Dad went to the bank to borrow money for her funeral but the banker wouldn't give him any money. He got the money some way.
We always had enough food and clothes but there was never money for much else. We had six or seven milk cows and chickens and we'd take the cream and half a case of eggs to town and trade for groceries. We raised a big garden with lots of potatoes, turnips and carrots and other stuff that would keep through the winter in the root cellar.
JoAnn: In those days there were people in town who had a little money they'd loan you when the bank wouldn't. I remember the druggist was one of those lenders that people used to go to. But it was tough to even raise $135 a year for a payment on your land.
Gallacher: Where did your family come from?
JoAnn: My mother and her family moved out here from Missouri when she was just a little girl. They were originally from Ireland. I'm not sure what motivated them to come out here. I think it was because they were farmers in Missouri and there were a lot of new opportunities for farming in Colorado at that time. They lived on a lot the places here on the Mesa mostly renting. They moved around a lot it seems like.
Life was hard; my grandmother died when my mom was just little, so my granddad was left to raise them on his own. Lucky for him and the kids there were other relatives here to help him.
Gallacher: What did you do for fun?
Don: Go to the woodpile and cut wood. (laughs)
JoAnn: There were dances at the schoolhouse once a month, and everyone would go and have a big time.
Don: Yeah my folks would take us when we were just little, and we'd bed down in the back of the schoolhouse and they'd dance the night away. And when the dance was over they'd bundle us up in these big old heavy quilts, and we'd ride home in a horse-drawn sled. They'd heat rocks around the stove during the dance and put them in the sled to keep us warm on the way home.
Gallacher: How old were you when you went to work on the ranch?
Don: I wasn't very old, 7 or 8. We had six teams of horses, and my job was to go to the barn in the morning and harness up the horses. I had to get on a five-gallon bucket to get the collars on them. When I got that done I drove the stacker horse. I did that until I got old enough for Dad to put me on the haystack.
I was born here on the ranch on February 8th of 1926. I guess it was cold and snowin' because the doctor couldn't get to us, so Grandma delivered me. My brother and I had to ride about seven miles to school. We didn't have the clothes then that we do now and some mornings it would be 20 below when we had to leave.
We rode double bareback and the horse's body heat kinda kept us from freezin' to death. When we got to the schoolhouse the teacher would park us around the potbelly stove until we got thawed out.
My job when I got home from school was to get to the woodpile and carry water from the creek. The creek was about 100 yards from the house, and I had to fill the reservoir on the stove. It took me two trips.
My other job was with the city of Rifle. There were two small sheds built above our property where the water comes out of Beaver Creek and into the city's line. The town gave us $9 a month to take care of it. So it was my job to go up there every night after school in the winter and fill the coal oil lanterns that they had burning to keep things from freezin'. There was a chlorine machine in there to treat the water, and I had to fill that, too.
Gallacher: So you were handling chlorine as a kid?
Don: Yeah, I was about 9 years old. But the chlorine tank was set to the amount that needed to go into the city line so I was just filling the reserve.
Gallacher: But can you imagine giving that responsibility to a child today?
Don: (laughs) No, I don't imagine that would set too well.
Gallacher: Have you ever gotten hurt working on the ranch?
Don: Well, there was the time one October when me and a friend were gatherin' strays at the cabin up above here. There was about six to eight inches of snow, and it was real cold. I drove the truck up with all our stuff, and we stayed about a week. When we got ready to pack up and come home the truck wouldn't start. We fooled around with it and finally pulled it with a horse and got it started. I was in the truck, and he was followin' behind me on horseback.
When I got to the gate, I got out and set the brake and left the truck runnin' with the door open. Just as I was opening the gate, I heard a noise and looked back and here comes the truck. I had the choice of jumpin' off a real steep bank or tryin' to jump in the truck. I chose the truck and I got my hand on the steering wheel and was hopping along with one foot in and one foot out. My outside foot slipped and that made me jerk the wheel and the truck rolled over the bank and over the top of me. It was lucky that I fell into some rocks as the truck was rollin' over me or I wouldn't be here.
I crawled back up the bank and spit out a couple a teeth. I had a good-sized branch stuck up through my chin and into the roof of my mouth. It had just missed my jugular vein. It was about that time that my friend showed up with the cows. He could see that I was bleedin' pretty bad and he took an old sweatshirt and wrapped it around my neck. He got my saddle out of the truck and put it on the bay horse, and we started down to a hunting camp that we knew was nearby.
When we showed up the hunters were all willin' to take me but it was pretty clear from the whiskey bottles lyin' around that I was in for another ride. He said, "Get in," I did and down the road we went. But the first thing he did was sideswipe a horse trailer. I told that guy, "You slow this thing down, I've already been in one wreck today." He took me straight to the hospital. I ended with two broken bones in my back, and I don't know how many ribs. I broke my jaw in two places. I was beat up.
JoAnn: He almost didn't make it. Those ribs he broke punctured his lung when he got on that horse.
Don: Yeah, when I got on that bay I went about 300 yards, and I could tell I'd made a bad mistake.
---
Support Local Journalism
Support Local Journalism
Readers around Glenwood Springs and Garfield County make the Post Independent's work possible. Your financial contribution supports our efforts to deliver quality, locally relevant journalism.
Now more than ever, your support is critical to help us keep our community informed about the evolving coronavirus pandemic and the impact it is having locally. Every contribution, however large or small, will make a difference.
Each donation will be used exclusively for the development and creation of increased news coverage.
---
Start a dialogue, stay on topic and be civil.
If you don't follow the rules, your comment may be deleted.
User Legend:
Moderator
Trusted User
---
News
There is a wealth of scientific literature about the power of unhealthy food to cause disease and of healthy food to prevent, treat and reverse disease. Unfortunately, doctors aren't given this information in medical school,…
---
---
See more